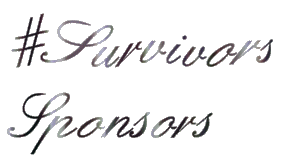 There are many people without whose help I would not have made it this far. I wish to thank from the bottom of my heart all those who have contributed in anyway to the work we do here on the net and elsewhere. I thank you for your time, the energy you have put into helping me and your continued support.
Fastnet International

Fastnet have a national local call number, for each of you joining a donation goes to #survivors, so, please, click on the link and tell Ian who sent you.

Many Many thanks to

Ian Robertson

for his help with building computers for the volunteers

Another great Internet Provider.
Many thanks to Mistral and the one and only Paul, who has been very helpful in supporting #Survivors.

Computabitz

For all your computer equipment then check out this site

Much thanks is owed to Computabitz for the donation of a computer and modem.

Zac's Computers

25 Teville Gate,

Worthing, West Sussex.

Telephone Zac on 01903 217000.

Zac has a page under construction which I shall link you to in the near future.

Much thanks to Zac for the supply on PC Cases. For any of you looking for great software or hardware, this is the place to go.
Thanks to PC Corner of Portland Road Hove, Tel 01273 383848 for thier support with #survivors.
Last but by no means least, thanks to all those from the channel and in my life who have contributed cash to survivors. Many thanks also to The Big Issue, The Belfast Telegraph, Survivors Network, C.R.O.S.S. and to all who have shown an interest in what we are trying to achieve for the future of all survivors.
Page Design : Jill Miles
(or borrowed from other sources on the net)
For help or further information please email me

Jill Miles (paddy)
Copyright © 1997 [#Survivors On The Net]. All rights reserved.
Last revised: